Ribbon Blender range and specification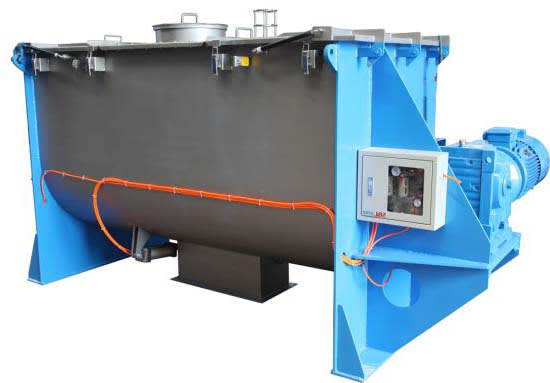 ---

USE OF BLENDER
Ribbon Blender is used to blend powder product like Pharmaceutical, Chemicals, Dyes, Pigments, Organics, Agriculture products, Minerals, Pesticides & Food products.
ABOUT RIBBON BLENDER
Abster Ribbon Blender is one kind of mixer to mix different powders. Horizontal mixer is precisely designed to maintain combination of three major dimensions is Diameter, Ribbon width and Pitch. It is for effective distribution of very small amount of additive added is getting effected and assures homogeneity of final output. Powder is got Rotary as well as horizontal motion in positive direction to get effective blending which is happen by design perfect sizing of inner and outer ribbons.
BENEFITS OF OUR DESIGN
We designed machine to help our customer to get very good productivity. Easy dismantle for cleaning and quick reassemble is possible by Fabricated U-trough, bolted ribbons and arms, Shaft on heavy duty bearing and housing, bolted End plates, bolted stuffing box.
Optional Features:
Fluid coupling to start blender in loaded condition.
Liquid spray arrangement.
Material construction as per requirement.
Special changes to fit in Layout.
Special size on demand.
Outer Jacket for hitting/cooling.
Roster type Blender
| | | |
| --- | --- | --- |
| Model | Motor (HP) | Useful Module(Liters) |
| ABFRB-20000 | 60-75 | 20000 |
| ABFRB-15000 | 50-60 | 15000 |
| ABFRB-12500 | 40-50 | 12500 |
| ABFRB-10000 | 30-40 | 10000 |
| ABFRB-8000 | 30-40 | 8000 |
| ABFRB-6000 | 25-30 | 6000 |
| ABFRB-5000 | 20-25 | 5000 |
| ABFRB-4000 | 20-25 | 4000 |
| ABFRB-3000 | 15-20 | 3000 |
| ABFRB-2000 | 10-15 | 2000 |
| ABFRB-1500 | 10-12.5 | 1500 |
| ABFRB-1000 | 7.5-10 | 1000 |
| ABFRB-500 | 5-7.5 | 500 |
ribbon blender working principle
ribbon blender for powder mixing
second hand ribbon blender india
ribbon blender manufacturer
ribbon blender manufacturer in bangalore
19 total views, 1 views today
Summary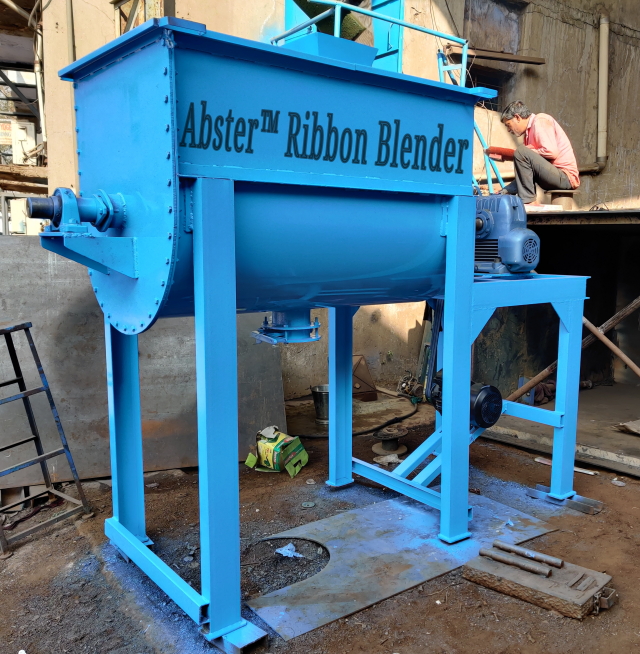 Author Rating





Aggregate Rating
no rating based on votes
Brand Name
Abster™ Ribbon Blender
Product Name
Ribbon Blender
Price
US$ 1000
Product Availability
Pre-Order Only