Sigma Mixer manufacturer In Mumbai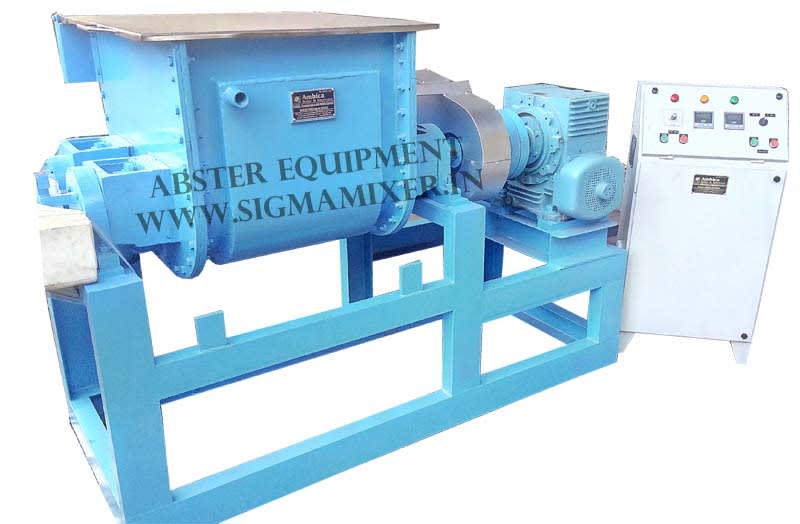 </

Sigma Mixer Kneader is present day hard core blender exceptionally intended to create uniform blending and manipulating heavier thickness materials. It is reasonable for some applications, for example such as different kinds of dough, stiff pastes, adhesives, polyester compounds, flush colors, brake lining compounds, resigns, soap, PVC coatings, rubber compounds, food dough, etc.
Operation of Sigma Blade Mixer
Stacking of material is done through best of blender on opening the top or through the sustaining mouth/container. On beginning the machine, the extraneous activity of blending and massaging is completely gotten by Z molded plying sharp edges, which turns precisely at various speed towards one another making item be exchanged from cutting edge to edge. Release of the blended item is accomplished by tilting the compartment or through the valves at the base or by methods for an expulsion screw underneath the holder whenever gave.
Salient Features of Sigma Mixer
Sigma Mixer (Kneader) is a Batch Mixer
Mixing Trough and Blades are fabricated from mild steel / various grades of stainless steel.
Product contacting parts are ground, buffed or smooth and clean working.
Blades are designed to obtain thorough mixing of high viscosity materials.
Blades are machined on a leading edge to keep minimum equal gap between through walls and blades.
Heavy-duty gears are fitted to the blades.
Shaft sealing into the stuffing boxes is provided by Teflon Chevron Rings / PTFE breaded gland rope to prevent leaking from blade ends.
Guards / Grills and interlocking are provided for maximum safety.
Options
GMP / Non GMP / models.
Discharge by tilting container / bottom sliding valves / bottom gates / flush bottom gate valves.
Tilting by hand liver / hand wheel with lead screw / electrical arrangements / hydraulic systems.
Lifting of lead either manually, with help of counter weights or hydraulically.
'Z' Type Spiral blade / Naben / double naben blades to circulate hot / cold water in cases of heavy masses.
Jacketed shell for heating or cooling by steam, oil, water etc. with fiber glass insulation over the jacket.
Working facility with vacuum or pressure.
Spray system for liquid addition / gas purge.
Flame proof / Non-flame proof electrical controls.
Wireless remote control operation for toxic materials.
Electric (FLP/Non FLP) / Hydraulic drives.
409 total views, 1 views today