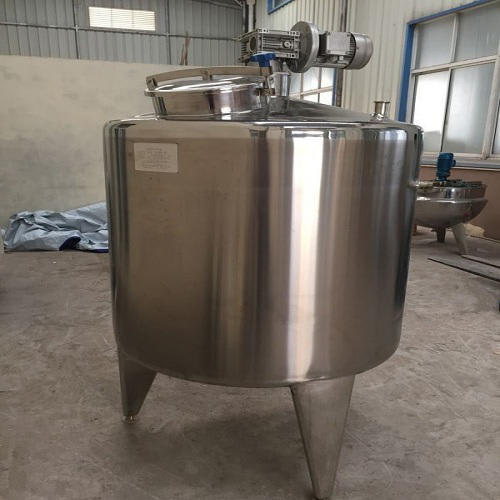 Product Description
Stainless Steel Jacketed Vessels
Leading supplier for Jacketed Vessel & Various Capacity from 500ltr to 50kl. Jacketed Vessels are supplied with buffed external & internal surface as per requirement. Jacketed Vessels is fabricated from high graded raw materials which are jacketed by MS or SS. Process Jacketed Vessels, Stainless Steel jacketed Vessels, We supply Jacketed Vessels in SS316-304 Other Information
We are one of the leading manufacturer and exporter of high quality Jacketed Vessel. These products are manufactured using optimum quality raw materials that are sourced from reliable vendors. These jacketed vessels are designed for controlling the temperature of its contents. The cooling or heating jackets are provided around the vessel. These products are fully tested by our experts before being dispatched to our customers.

Jacketed Vessel Technical Specifications:
Jacketed Vessel: Jacketed Vessel can be made of MS or Stainless Steel as per the requirement.
Drive:
Complete dry unit consist of tapered,Roller Bearing,Bearing Housing with bearing,Flexible coupling Stuffing, Box with gland pulling arrangement, Lentrn ,Bottom tripod with teflon bush
Welding:
Welding work is performed by Argon Arc process for S. S. Parts.and rest electric are using suitable electrodes.
Closer Ring Welding:
 Jacketed Closure Ring welding is performed by using S.S 309 filler wire closure ring .
 Stiffener Ring:
M.S.Stiffener Patti is welded shell and bottom dish in spiral shape.
 Finish:
All weld joints will be finished from inside and outside, S S. Parts is cleaned from inside and outside. Two coates of primer/ red oxide will be given on M.S. parts from outside
 Testing:
With various type of Agitators and Vortex Breaker
With Manhole on top /side
With Tubular legs / Conical legs / Lugs
With Light and Sight Glass
We manufacture and provide a variety of jacketed vessel which are highly suitable for the petro-chemical, resins, polymers, coatings, adhesives, agricultural, general chemicals, plastics and rubber industries. These jacketed vessel are used in the production of various products including grease lubricants, paints, inks, varnishes, adhesives, cleaning compounds and liquid detergents amongst others.
These jacketed vessel are available in various forms and can be equipped with propeller, turbine, paddle, helical or anchor type agitators. We also provide double motion agitator arrangements that are designed using paddle-turbine and anchor stirrer designs for some specific high viscosity products such as grease lubricants, adhesives and polymers. The agitators are created and designed based upon individual process conditions, product characteristics and the degree of agitation required for achieving the desired end product.
The various types of jacketed vessel are as follows :
Half-Pipe, Conventional Double Wall or Dimpled-style Jackets for Indirect Heating.
Jackets designed for Heating/ Cooling with Water/Steam or Thermal Heat Transfer Fluids.
Internal Heating/Cooling Coils can be added where design process conditions determine additional heat transfer area required.
745 total views, 1 views today