100 Holes Capsule Filling Machine
Description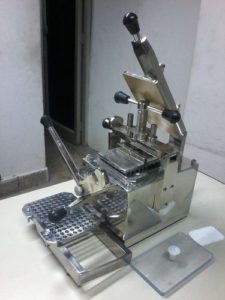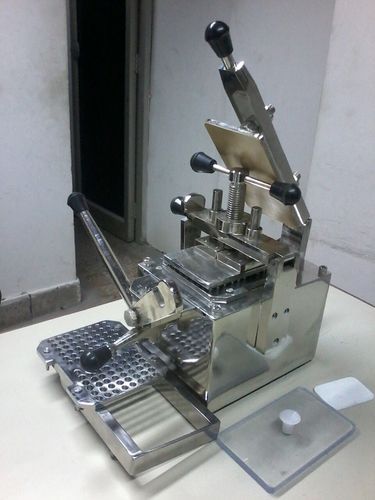 100 Holes Capsule Filling Machine is small table top machine suitable for pilot batch productions. Machine is having 100 holes with 10 x 10 combinations made in Stainless Steel constructions meeting GMP requirements. Machine can fill size 00 to size 5 capsules with help of different machines and interchangeable parts. Assembly has been done in such a way that it can be easily dismantle for cleaning operations. Though all the operations are manual, the machine calls for precision machined components and assembled with highly skilled personnel. Machine having wide usage in R&D laboratories, Research Institutions, Herbal & Nutraceutical preparations, Unani & Ayurvedic medicines etc.
Synonyms: 100 Holes Capsule Filler, Hand Capsule Filler, Nutritional Capsule Filler
Application: Filling Capsules with powder, pellets & granules
Usage: Pharmaceutical, Nutritional, Biotech, Health Supplement, Food Product & Cosmetics
Suitability: Hard Gelatin, HPMC & Veg Capsules in 00, 0, 1, 2, 3, 4 & 5 sizes
Versions: Standard Model, GMP Model, Stainless Steel 316 Model
Process Operation
Place empty capsules onto the loading tray and place tray onto the machine. Check the front knob it should be turned to the right.
Pull locking lever forward. Push down long handle which will lifts the caps off all the bodies. Set aside the tray containing all the caps.
Push locking lever back, by which capsule bodies will drop down and become level with filling surface.
Place powder tray on filler: keeps powder from spilling.
Pour & spread the pre-measured powder. Move extra powder onto powder tray's shelf. Lower tamper and lock.
Turn handle to compress powder: this allows you to fill more powder in each capsule.
Raise tamper & spread extra powder from shelf into capsules: ensures uniform fill weights.
Return the tray containing caps to filler. Turn front knob to the left and lower locking plate. Engage lock for locking plate.
Hold tamper handle and push down on long handle. Bodies are pushed up into caps: all the capsules are now locked in one step.
Disengage lock for locking plate. Lift locking plate and turn front knob to the right.
Push down long handle and remove tray of completed capsules.
Capsules are filled now. You can turn tray and all the capsules will get out from the tray.
Technical Specification
Production Output
Up to 2000 capsules/hour
Capsule Combinations
Size 00, 0, 1, 2, 3, 4 and 5
(through different machines & parts)
Sequence of holes
10 x 10 = 100
Numbers of Loading Trays
One
Overall Dimension
375mm (L) x 280mm (W) x 400mm (H) approx.
Net Weight
20 Kgs. approx.
Gross Weight
28 Kgs. approx.
15 total views, 1 views today
Summary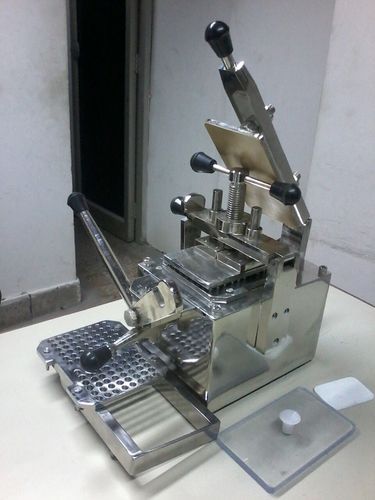 Author Rating





Aggregate Rating
no rating based on votes
Brand Name
Abster™ 100 Holes Capsule filling Machine
Product Name
100 Holes Capsule filling Machine
Price
US$ 1150
Product Availability
Pre-Order Only