Pharmaceutical Turn Table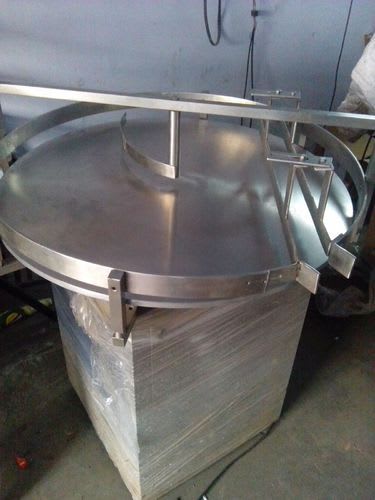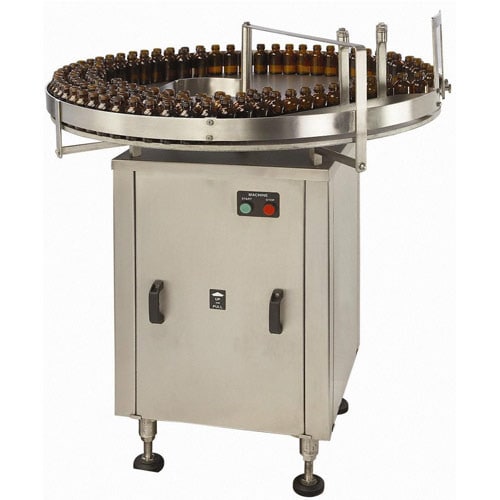 Turn tables are horizontal, rotatable mechanisms for transferring objects between conveyors that are in angular relation to one another. Turn Table also known as scrambler & un – scrambler, is built on SS square frame, solid guide rail & reduction gear box for jerk less & noiseless performance. Turntables are useful for ensuring total synchronization and uniform flow of containers. Turn tables often provide both loading and unloading of their contents to and from a conveyor. Turntables increase productivity and ergonomics in any manufacturing operation. Turntables are a small but integral part of the total process to maximize workplace efficiency. Turntables are also ideal for loading and unloading of pallets and other containers when minimum floor space is a concern. Turntables keep production operations moving without interruption.
Turn tables Salient Features
– Turn Table System for transfer or movement of various type of Vials, Bottles, Jars on any Powder Filling or Liquid Filling Line.
– Turn Table can be used with any machine for collection or feeding of products and also used to change the total line direction for €L€ shape or €U€
shape movement of line.
– Turn Table is available in various diameter of 600, 750, 900 or 1200 mm as per customers requirement.
– Turn Table frame is made from M.S. Frame Structure With S.S. Covering / Enclosure with Aluminimum Top Plate having Stainless Steel Cladding.
– Turn Table can be supplied with Standard Variable Speed Pulley Drive or A.C. Variable Frequency Drive System for smoother Start and Stop
opetation for unstable products.
– Turn Table can also be made from Stainless Steel Frame and also with Fully Stainless Steel Top Plate on request.
– Turn Table is also ideal for use in any automatic high speed liquid of powder line and turn table can also works as a buffer between two machines.
– If any of machines stop during the online operation, Turn Table can collect the outfeed product from machine or similarly can feed the products to
machine without interrupting the complete line
Product Details:
| | |
| --- | --- |
| Phase | 3 |
| Volts | 440 |
| Capacity | 50 Cycles / Sec |
| Bottle size round shape diameter | 22 mm to 120 mm |
| Respectively height | 50 mm to 240 mm |
| Brand | ABSTER |
We are leading manufacturer and exporter of Scrambler Turntable and our product is made up of good quality.
Backed ourselves with sound amenities and talented personnel, we have emerged as one of the leading manufacturers and suppliers of superior quality Scrambler Turntable.
The table provided by us is extensively used in pharmaceutical, chemical, and much more industries for pouch handling and small carton handling.
The offered table is manufactured from the well tested raw material and advanced machines.
Our quality auditors check this table against several parameters to provide detect free range at clients' end.

Features:-
Easy installation
Low maintenance cost
Long service life

Other Details:-
All exposed parts of S.S. or Aluminium to avoid any rusting
Reduction gear ensure jerk free and noiseless performance and allows absolute
Cleanliness even inside
Construction ABI S.S. Quality (GMP Model)
A.C. drive or three step pulley for different speed

Instructions:-
Power Characteristics: 440 Volts, 3 Phase (4 Wire System) 50 Cycles / Sec
Bottle size round shape dia: 22 mm to 120 mm
Respectively height: 50 mm to 240 mm
GMP Model Turn Table: 24'' GMP Model Turn
Table 30'' GMP Model Turn Table: 36'
538 total views, 1 views today