Cosmetic Cream Lotion Ointment Mixing Tanks Manufacturing Plant
Manufacturers & supplier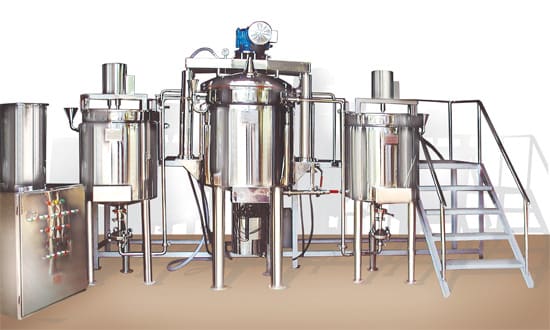 Cosmetic Cream Lotion Ointment Mixing Tank
Enquiry
Description
Ointment Manufacturing Plant is an ideal tool for the pharmaceutical & cosmetic industries for the production of Ointment, Cream, Lotions, Tooth Paste & other emulsions & homogenizations.
It is specially designed to take care of two critical factors which directly affects the quality of the Ointment/Creams.
Minimum man handling of Ointment.
Negligible vacuum drop during mixing & blending.
Needless to say, it also provides the benefits of the effective manpower utilization.Salient Features
Compact & versatile as per GMP norms.
Cosmetic Cream Lotion Ointment Mixing Tanks contact parts made of SS316 and teflon material.
Hydraulic lid lifting and tilting arrangement of the main vessel to facilitate cleaning at the time of product change over.
Specially designed stirrer with flexible teflon scraper.
Mixing principles are matching with international standards.
Variable speed provided for stirrer and homogenizer for different speeds.
All transfer done through vacuum to avoid any hand touch and contamination.
Homogenizer fitted in the main shaft to ensure high shear emulsification and homogenization of the product.
Specially designed inline filter to ensure proper filtration.
Minimum change over time.
Pneumatic/hydraulic lifting to lid manufacturing vessel.
Mixing vessel consist of two speed agitators and one variable fast speed agitator.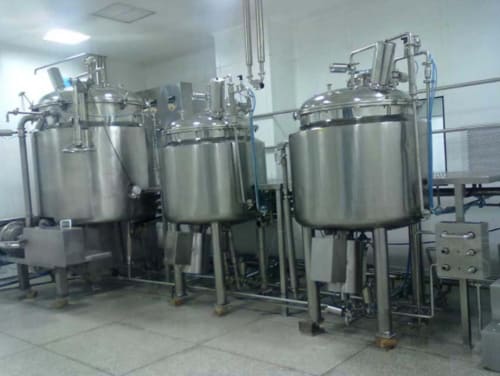 Ointment manufacturing plant consist the following equipments and accessories
Manufacturing Vessel or Jacketed planetary mixer
Was phase vessel
Water phase vessel
Storage vessel
Vacuum pump
Control pump
Product piping
Working platform
Material transfer pump to transfer material from manufacturing vessel or planetary mixer to storage vessel & storage vessel to Ointment (Tube) filling machine.
Manufacturing of Cosmetic Cream Lotion Ointment Mixing Tanks
Ointment Manufacturing Plant
Ointment Cream Manufacturing Plant
Automatic Ointment Manufacturing Plant
Jacketed Mixing Tank
Stainless Steel Liquid Mixing Tank
Automatic Syrup Manufacturing Plant
Liquid Manufacturing Plants
Liquid Processing Plant
Liquid Processing Plant For Pharmaceutical Industry
Liquid Oral Manufacturing Plant
Liquid Oral Manufacturing Plant
Automatic Liquid oral Manufacturing Plant
Liquid Oral Plant
Automatic Liquid Syrup Manufacturing plant
Pharmaceutical Liquid Processing Unit
Liquid Sugar Manufacturing Plant
Liquid Oral Processing Unit
Liquid Oral Processing Plant
Liquid Manufacturing Plant
Sugar Melting Tank
Mixing Vessel
Cosmetic Mixing Vessel for Pharmaceutical Industry
Stainless Steel Vessel
Automatic Liquid Syrup manufacturing Plants
Cosmetic Manufacturing Plant For Pharmaceuticals Industry
Ointment Mixers For Pharmaceutical Industry
Ointment Mixer
Ointment Cream Mixer
Ointment Manufacturing Tank
Automatic Liquid Oral Manufacturing Plant
Automatic Liquid Oral Plant
Automatic Liquid Oral Processing Plant
Automatic Liquid Oral Suspension Manufacturing Plant
Automatic Liquid Syrup Manufacturing Plant
Oral Liquid Manufacturing Plant
Automatic Oral Liquids Manufacturing Plant
Sugar Melting Vessel
Sugar Melting Tank for Pharmaceutical Industry
Cosmetic Manufacturing Plant
Ointment Cream Manufacturing Plant
Ointment Making Plant
Jacketed Tank
Stainless Steel Storage Tank
Cream Manufacturing Plant
Cream Manufacturing Vessel
Cosmetic Mixing Vessel
Jacketed Mixing Vessel
SS Vessel
Jacketed Reactor
Jacketed Vessel
Perfume Manufacturing Vessel
Automatic Liquid Syrup Processing Plant
Automatic Liquid Syrup Production Line
Automatic Oral Liquid Syrup Manufacturing Plant
Automatic Suspension Syrup Manufacturing Plant
GMP Liquid Syrup Manufacturing Plant
Liquid Oral Processing Plant
Liquid Syrup Manufacturing Plant
Liquid Syrup Processing Plant
Liquid Syrup Production Line
Suspension Syrup Manufacturing Plant
Suspension Syrup Production Plant
Automatic Ointment manufacturing Plants
Automatic Cosmetic Cream Manufacturing Plant
Automatic Cream Manufacturing Plant
Automatic Lotion Manufacturing Plant
Automatic Ointment Manufacturing Plant
Automatic Ointment cream manufacturing Plant
Cosmetic Cream Manufacturing Plant
Cream Manufacturing Plant
Lotion Manufacturing Plant
Ointment Manufacturing Plant
Pharmaceuticals Ointment Manufacturing Plant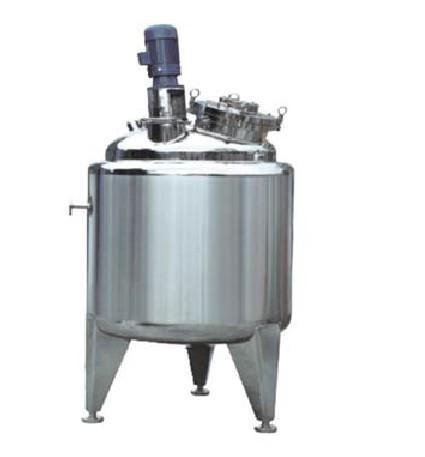 Cosmetic Cream Lotion Ointment Mixing Tanks
605 total views, 4 views today