Adhesive Reaction Vessel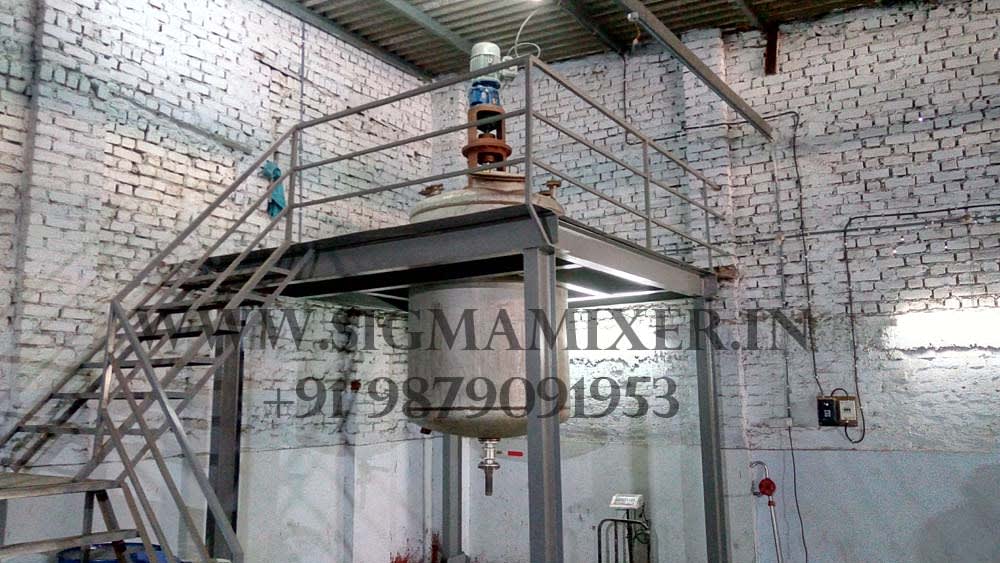 Chemical mixing tank is a container with an agitator for mixing, dispersing and reaction of different materials in chemical production. It is widely used in chemical, food, pharmaceuticals, resin, coating, paint, printing ink industry. It can be either dished end type or flat lid type, with level gauges, temperature detectors and display device. Usually, it has manhole, sight glass, feeding inlet, discharging outlet and spare openings. For different production process and reaction materials, we will have different designs and configurations, mainly displayed on its shape, overall size, sanitary requirement, seal effect, with condenser, heat exchanger, pressure sensor, temperature sensor and load cell. Various agitators and discharging modes for option.
Pressure Vessel Stainless Steel lab reactor Reactor Chemical Reaction Tank Pressure Vessel With Agitator And Mechanical Seal
Chemical Reactor Paint, Resin, Emulsion, Adhesive Reactor
Application
1). Resin:
Alkyd resin, Epoxy resin, Phenolic resin, Acrylic resin, Unsaturated polyster resin, Polymer resin…..
2). Glue/ Adhesive:
Hot melt glue /Adhesive, White glue, Silicon glue, PVC glue, PVA, PU glue….
3). Others:
Paint, Pigment, Latex, White emulsion and liquid glue and adhesive.
Advantage and specification:
1.Material:
a) All contact part  and cover: SUS 304 or SUS 316 polished ;
b) Jacket: SS304 or carton steel
2.Heating way:
1) Electric heating,
2) Thermal oil heating,
3) steam heating or Zero distance heating optional.
3. Structure type:
1) External coil heating reactor,
2) Internal coil heating reactor,
3) Jacketed heating reactor.
Structure and Features:
Reactor mainly consists of the reactor body, tank cover, jacket, agitator, transmission, shaft seal device and supporting
3000L stirred hot melt adhesive Chemical reaction vessel, Reaction kettle ,
resin adhesive electric heating reaction vessel with cooling jacket
10000 liters stainless steel glue tank reactor/adhesive reaction vessel,

Pilot Reaction Vessel for Making Resin, Adhesive
3000L Reaction vessel SPECIFIACTION
Total volume
3000 L
Electric Motor
Power:5.5KW/ 7.5 HP
Motor equipped with Reducer
Inner shell
Material: S.S 316L
Steel Plate thickness:8 mm
Jacket
Material:S.S 316L
Steel Plate thickness:6 mm
Heating
Steam heating / Thermal oil heating
Rotation Speed
35  RPM
Paddle type Agitator
436 total views, 1 views today